For the first time ever, the 2021 Boston Marathon will see $27,500 from a total $876,500 prize purse go to para runners.
You don't need to be in the United States or even competing in the Boston Marathon to recognise the significance of the event.
In a year that's been dominated by the global pandemic with public sporting events largely closed as a result, the prospect of seeing fun runs return to our streets has seemed a long way off. But as vaccination rates around the world continue to increase with great speed, the return of the Boston Marathon suggests we might finally be on track, a small sliver of the normality we once knew in a year that's been anything but.
---
Tokyo Paralympic Champ Heads New Division of Boston Marathon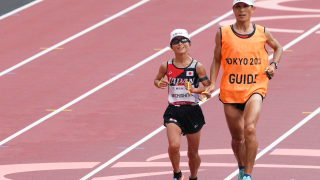 For the first time this year, the Boston Athletic Association will award titles and prize money in three new divisions: visually impaired, upper-body impairment and lower-body impairment
When Misato Michishita won the Paralympic marathon in Tokyo this summer, she picked up more than a gold medal.
The visually impaired Japanese office worker became a must-get for organizers of Monday's Boston Marathon, where she will headline one of three new para divisions being unveiled for the 125th edition of the race.
"I had a dream about running a Boston Marathon for a long time," Michishita said this week. "Most runners have the goal to run the Boston Marathon, so I would like to be a part of that."
The first major marathon to include a wheelchair race, in 1975, Boston has named a champion in a visually impaired division since 1986. But ever since the 2013 finish-line bombing that killed three people and left so many with prosthetic limbs, organizers sought a way to be more inclusive for para athletes who had long participated only for the satisfaction of finishing.
---
also read :